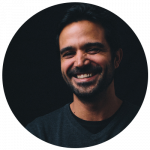 Founding partner and Innovation Director at TORKE CC, Pedro is responsible for IDEATORS Co-Creation Thinking development and shares responsibilities for the consultancy's new businesses.
Master in Experience Design, he's lived and worked in 6 different countries, and takes pleasure from his role as an occasional speaker and juror in the creative field, as well as tutor and consultant in social entrepreneurship
Design Research Interests:
Understanding Design as methodology to the extent of having developed Ideators – Co-creation Thinking –  I'm focussed on co-creation and creativity, more specifically on investigating the impact it has on processes, people and organisations.
This interest results from more than 10 years providing strategic and creative thinking to global organisations, as well as training some of their own teams in co-creation; Nestlé in Brasil, Schréder in Belgium and China, Lenovo Benelux, Dunnhumby in UK and South Africa, Unilever in Portugal, among others.
I'm in the mission of bringing co-creation to the companies' culture, because I know from experience that if we focus on existing human resources and provide them with the right tools to work better together and with creative confidence, motivation and efficiency rises.
Challenges:
Problem solving and process acceleration, strategic thinking, critical thinking, creative efficiency, creative confidence, risk reduction, innovation culture, change management, business development & training.
Field of studies:
Degree in Industrial Design at IADE (1998-2002), Master degree in Experience Design at Design Academy Eindhoven (NL – 2003-2005). Currently PhD student at IADE.
Professional experience:
(Since 2010) Co-Founder and Innovation Director at TORKE CC – an internationally awarded creative consultancy with projects in more than 14 countries.
(2008/2009) Research and development at Experimenta Design, (2008-2010) Founder and Creative at Cabracega Experience Design Studio, (2007-2008) Project manager at TORKE, (2005-2006) Social Innovation consultant in São Tomé and Príncipe. (2002-2007) Independent Designer.